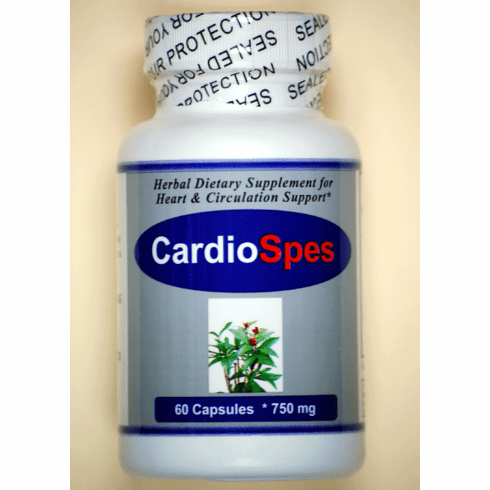 CardioSpes
Cardiospes
is a specially designed herbal formula that supports healthy heart and healthy cardiovascular functions.
This supplement may provide support for*:
Healthy Heart Function
Healthy Blood Circulation
Healthy Blood Pressure
Product details:
Proprietary blend:
Nattokinase 1000FU, Prunella vulgaris, Lycium fruit, Morinda citrifolia, Salvia root extract
Each bottle contains:
60 hypoallergenic capsules (750 mg)
Suggested Usage:
As a dietary supplement, take 2-3 capsules each time, two times a day, or as suggested by a healthcare provider. Sensitive individuals may want to take with food.
Additional Information:
Cardiospes
is a blend of fermented bacteria Baccilus natto extract, a traditional Japanese food called Natto, and 4 herbs
Prunella vulgaris, Lycium fruit, Morinda citrifolia, Salvia
root extract. Natto has been widely used in Japan for over 1000 years as a folk remedy for heart and vascular diseases. The four selected herbs are of the widely used tonic herbs in Chinese traditional medicine. These herbs have neutral energies and they are neither hot nor cold, therefore it benefits everybody who takes them. They help to promote blood circulation and minimize plaque build-up in blood circulation pathways .
Each 100 mg of Cardiospes contains 1000 units (FU) of all-natural enzyme known as Nattokinase, a product of the fermented bacteria in Natto. Research by Dr. Hiroyuki Sumi and other scientists (1, 2, 3, 4) have shown multiple potential benefits of Nattokinase in supporting cardiovascular systems and other health conditions.
For maximum health support over time, Cardiospes can be taken for months at a time as a daily supplement to support continual health and longevity. We generally recommend Cardiospes be taken for 9 to 12 months and then 10 days a month for 6 months thereafter.
References:
1. Maruyama M, Sumi H. Effect of Natto Diet on Blood Pressure. JTTAS, 1995.
2. Sumi H, Hamada H, Nakanishi K, Hiratani H. Enhancement of the fibrinolytic activity in plasma by oral administration of nattokinase. Acta Haematol 1990;84(3):139-43.
3. Sumi H, Hamada H, Mihara H. A novel strong fibrinolytic enzyme (nattokinase) in the vegetable cheese "natto." International Journal of Fibronolysis and Thrombolysis. Abstracts of the ninth international congress on fibrinolysis, Amsterdam, 1988, Vol.2, Sup.1:67.
4. Sumi H, Hamada H, Tsushima H, Mihara H, Muraki H. A novel fibrinolytic enzyme (nattokinase) in the vegetable cheese Natto; a typical and popular soybean food in the Japanese diet. Experientia 1987, Oct 15;43(10):1110-1.